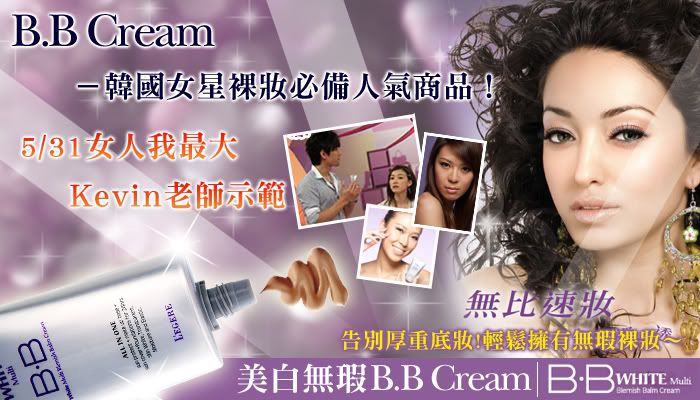 LEGERE White Multi BB Cream
Description on the back of the package:
ALL IN ONE FUNCTIONS
- sun protect + makeup base + skin cover + foundations for 24hrs
WHITENING & SKIN CARE FORMULA
- Acts effectively on irritated skin, concealing dermal blemish and helps skin rejuvenation with innovative active ingredient
- Blocking te penetration of UV rays and other harmful factors
- This silicon-based formula defines a natural, long lasting complexion with gentle calming effects of natual, plant derived soothing particles not only on oily and sensitive skin, but also on irritated skin following peel care
Good For:
- Skin that needs protection, irritated skin by peeling and laser procedures, sensitive and troubled skin
Applications:
- After following the daily skin routine, apply generously on face & sensitive area
- For skin protection and natural looking coverage
- Lightly pat a small amount of product over entire face in the final stage of basic skin toning

CLICK HERE for the Ingredients list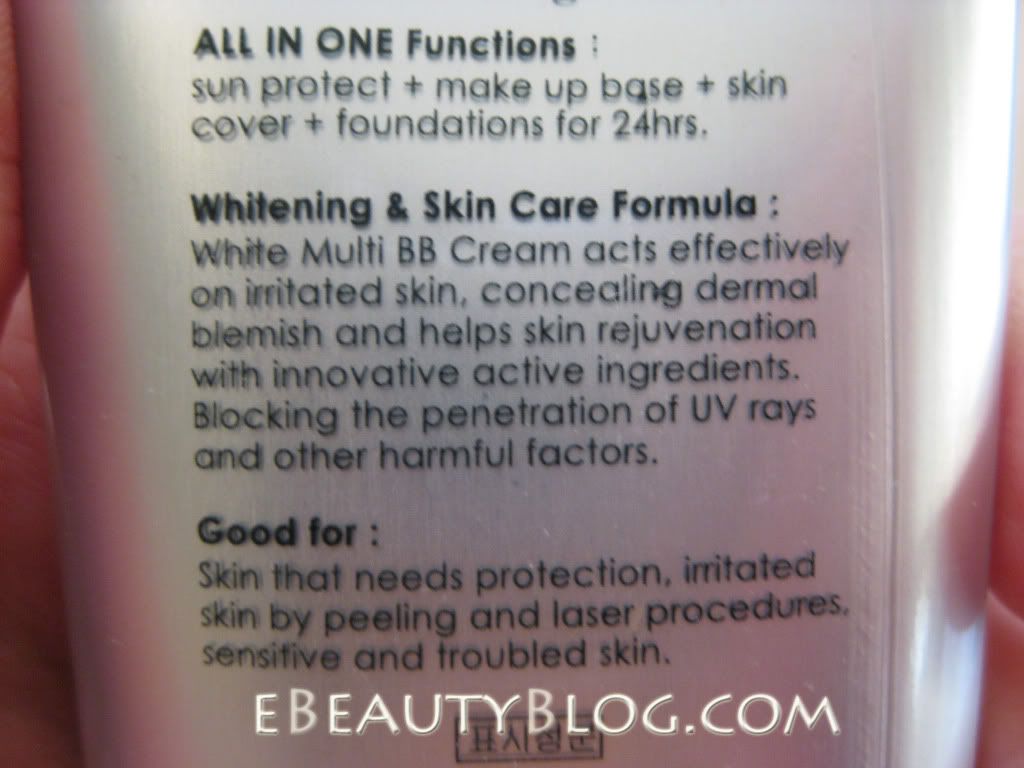 Here's how big it is:
(50g/1.69 fl. oz.)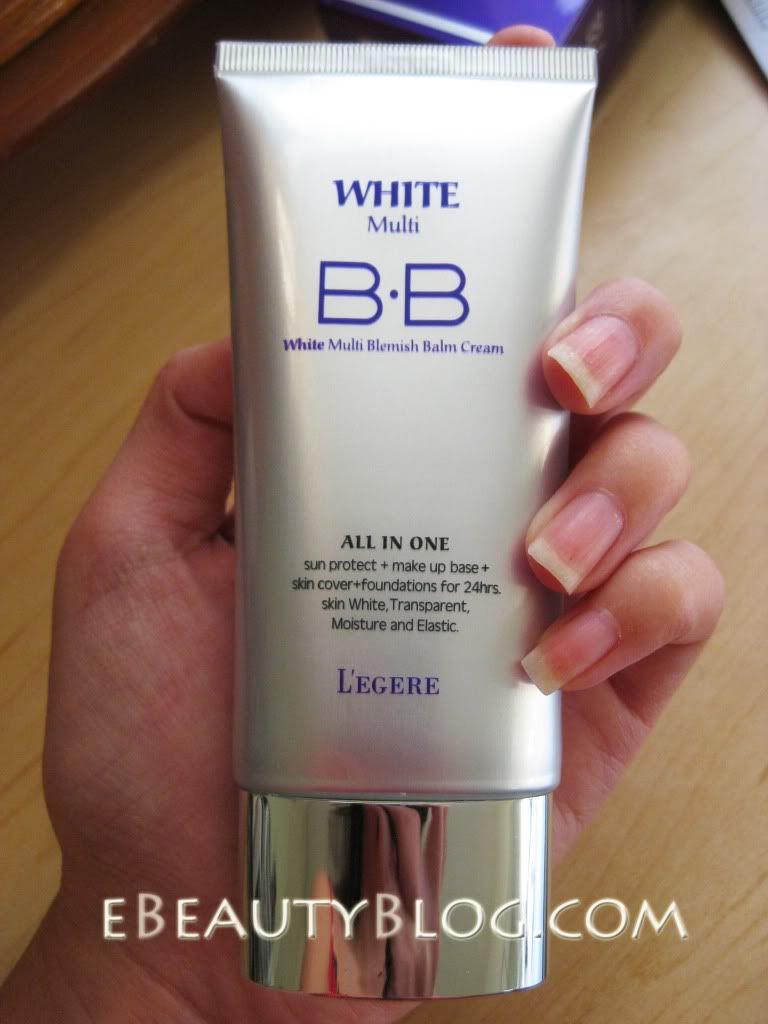 The consistency on L'egere BB cream reminds me of one of my favorite foundations,
Gorgio Armani Face Fabric Foundation
. However, GA Face fabric foundation is much softer and lighter in texture. And L'egere BB cream is a little thicker and firmer. It's a little darker in color which I was afraid at first since my skin tone is on the fair side. But once applied and blended on the skin, it's rather light.
Here's a before and after picture:
(look at how much lighter my skin look)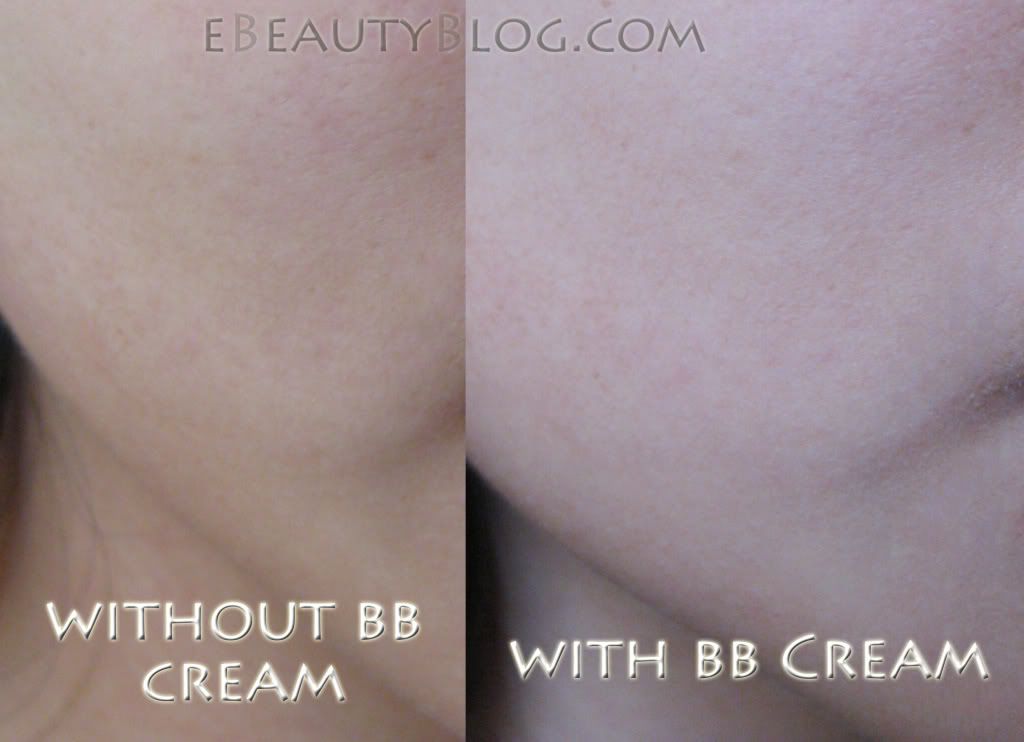 PROS:
-Feels really light compare to many other liquid foundation
-Coverage is fair-good depending on how many application you put on. As you can see on the before and after picture, it helps hide the pores and blemishes on my skin.
-Makes your skin glow
-Brightens your skin
-Very natural looking
CONS:
-Availability: I got this from an
Ebay's seller
that both
Kimberly
&
Fuz
recommended. And so far, this is the only online spot that we saw carry this bb cream.
-Like most other bb creams, it's limited to only lighter shades. So if you have darker skin tone this may not be for you.
-I have combination skin and my t-zones does gets oily while wearing this. Need to blotch several times a day.
OVERALL
: I think this is a good bb cream. I love how light it is yet it gives such a natural glow to your face. It doesn't dry nor make my combination skin look too oily. Compared to liquid foundation, it's not as thick and heavy; it also has medium coverage for skin imperfections. I like L'egere BB cream better than my other liquid foundations except for the
GA Face Fabric Foundation
though. GA foundation is still unbeatable in my definition since it's so much lighter and gives me that natural glow that I can't hardly find in other foundations.
I've heard of BB cream a while back and have been wanting to try it for so long. However, there are so many different kinds out there and I was always reluctant to TEST and TRIAL. Thanks to
Fuz
for her thorough review. It inspired me to give it a go!!!
Next on my BB cream Test n trial list are: SkinFood Mushroom Blemish Balm, Missha M Perfect Cover, BRTC Perfect Recover for acne, Skin79, and Etude House....and etc...etc...
CLICK HERE
TO CHECK OUT MY OTHER REVIEWS ON
BB CREAMS