Many of you probably have heard of eyelash extension and may even have it done before. But have you ever thought of doing it for yourself? Yes, getting it professionally done is a bit pricey considering the cost ranging anywhere from $150-400. Not to mention having to retouch your extension once every two weeks, which cost another $50-100. The cost of an eyelash extension kit is $100-400, depending on where you get it. There are many competitive online retailers that sell it at a very decent price.
However, please do your own research before buying.
For now, check out a very detail tutorial on how to achieved those beautiful, longer looking eyelashes for yourself brought to you by babykat. Her tutorial is nicely written, very descriptive, and easy to follow. It was so helpful that even the president of
OasisLashes
, the website where she have purchased her kit from had featured it on their website. I'd like to thank you babykat for sharing her wonderful experience with us.
Notice:
This tutorial is for your general information and use only. Babykat and I are not intended to persuade you into any practice and we're not held reliable for any risk associate with it. Please read our terms and conditions before proceeding.




General information:

Eyelash-extensions are semi-permanent, lasting 4-8 weeks depending on the life cycle of your own natural lashes and other factors. Like your hair and nails, your individual eyelashes grow out on a continuous cycle of replenishment.



Benefit:

very natural, long and thick looking eyelashes. Cheaper than any professional place. Blend on to your lashes as if they are your own lashes. No irritation if you do it right. You can wash your face, swim, sleep and shower without any trouble.

Here are my before and after pictures.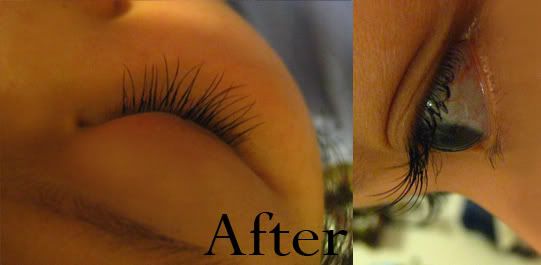 Downside:

Risky. Takes practice and experience.

The kit is expensive but if you are a fan of eyelash-extension, comparing to the money you would spend every month touching up at professional place, u will be saving so much money =D, and sometime they don't do a good job as if you done it yourself.



Don't do list:


- Do not let the glue touch your eye!
- Do not use water-proof mascara
- Do not use make up remover right on to your lashes
- Do not let glue get on your skin, especially around eye area.
- Do not poke your eye with the tweezers, be careful with it.
- Do not use the eyelash curler because it will break your lashes.
- Do not rub your eyes a lot, or else it might not last long
- Do not remove the extension by pulling.

Okay, thank you for reading the information. Let move on.



Note:

It will be so much easier if you have the individual falsie experience. The procedure is almost the same. Before applying the extension, I suggest using individual falsie and adhesive to practice on your own eyelashes first.




The materials that I am going to use are: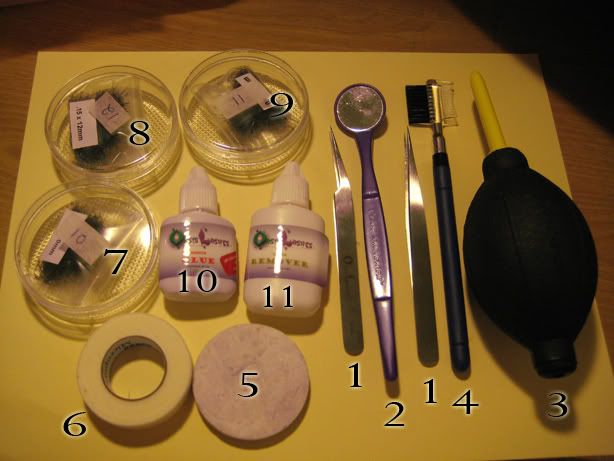 1. Tweezers
2. Handy Mirror
3. Handy Air Pump
4. Eyelash Comb Brush
5. Glue holder
6. Micro tape
7. Synthetic J-curl lashes: 0.15mm x 10mm
8. Synthetic J-curl lashes: 0.15mm x 12mm
9. Synthetic J-curl lashes: 0.15mm x 11mm
10. Eyelash Extension Glue
11. Eyelash Extension Hair Remover (just in case I mess up)

Here are the lashes: I use J-curl size 10, 11 and 12mm; 0.15mm thickness.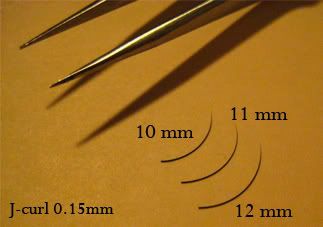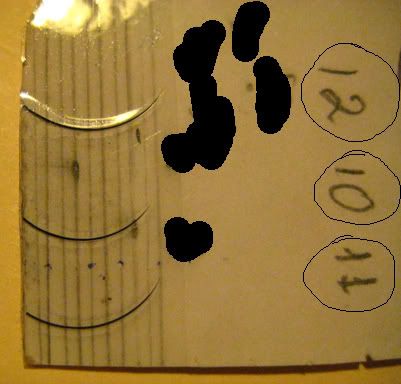 Okay let's practice: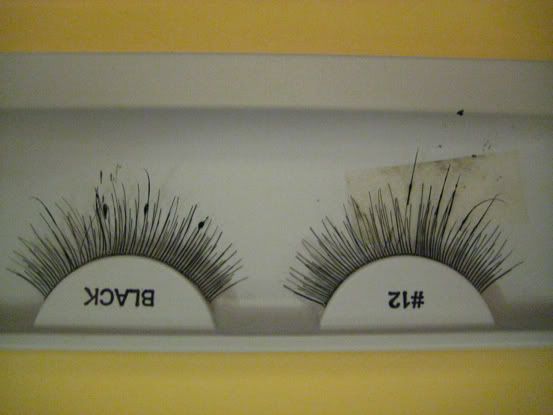 You are going to need a set of falsie to practice.



Squeeze a small amount of glue onto the glue holder
Using tweezers hold the synthetic eyelash polished tip; dip approximately 1/3 to 1/2 of the flat ended into the glue.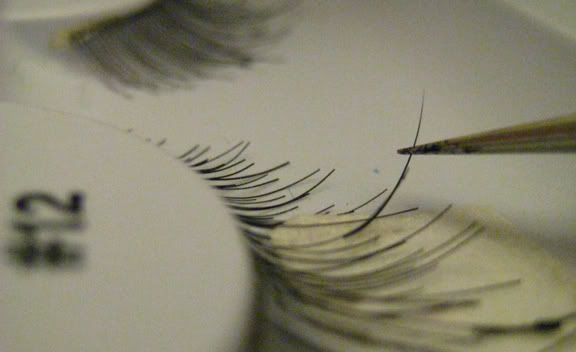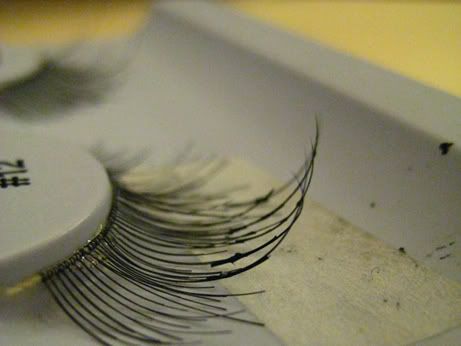 Apply the extension on top of the fake lash. Try to bond the extension on one fake lash only. You might see clumps for first couple times, just simply take it out while still wet and bond onto the fake lash again. Make sure it curling straight up. Practice as many as you need to get use to it. Please watch the video below.

http://www.youtube.com/v/PHXaCpEIvQY

The secret to achieve the natural looking is how well you bond the extension with your natural lash.
Try to have one extension on to one lash only. First couple times, you might end up bonding couple lashes together, it's okay. That's why we practice.


Okay, you are done with practice, let's do it @_@.



Warning:

make sure you know what you are doing. I am not responsible for your own risk.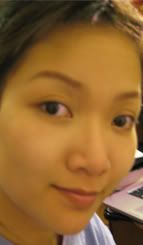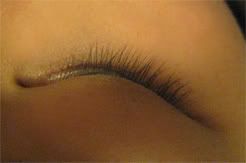 Start out with a clean, fresh face and eyelashes. I'd recommend washing your face with non-oil soap or some kind of non-oil cleanser.
Important: Do not curl your eyelashes before applying extension. The straighter your eyelashes, the easier you can bond with the glue.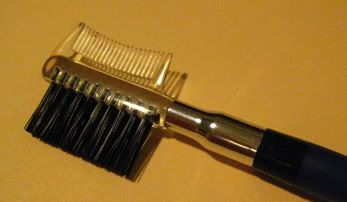 Use the brush side of your Eyelash Comb Brush to brush through your lashes. While brushing, plays with your natural lashes, get to know them, practice separating them with your fingers. Make sure you know the direction of your natural lashes.

Use micro tape, taping on to your eyelid, not too close though. The purposes are for seeing the natural lashes easier, and prevent the glue get on to your eyelid. I found that it hard to work with the micro tape on so I just skipped it. For the first time doing, you should use it.

Determine how you are going to place your lashes. For example, you want to work on both sides at the same time. For each of the 12, place two 11 in. The middle area of your eye should be longest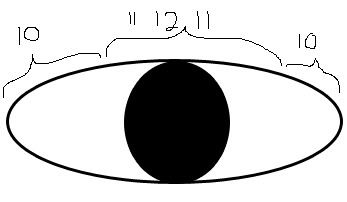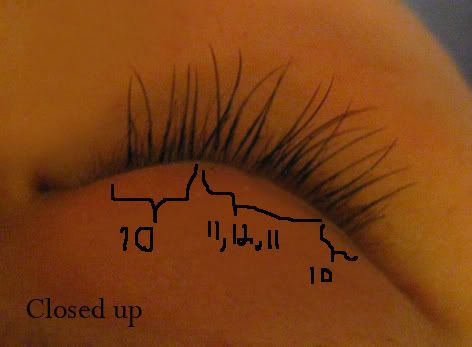 Okay, when you are ready to do it, using tweezers hold the synthetic eyelash polished tip; dip approximately 1/3 to 1/2 of the flat ended into the glue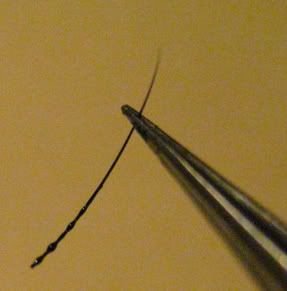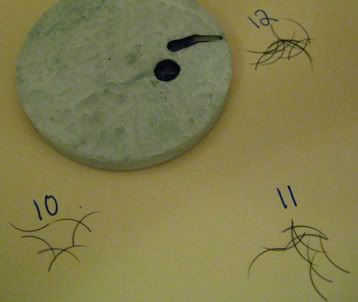 Then use the technique above to apply on your natural lash. Again, please be careful, do not let the glue touch your eye!
When you apply the extension, leave a distance of 0.1-0.2mm from the natural lash root.

DO NOT

attach the extension on the root of natural eyelash or onto the eyelid. This might cause discomfort and skin irritation.

Make sure the fake lash curling straight up before the glue dry.

After you apply, use the Handy Air Pump to dry the glue. Notice how I position the Handy Air Pump so that the extension is curled straight up. If it shifts position, simply take it out while it still wet, and bond again with less amount of glue. Always use mirror to check side view of your lashes.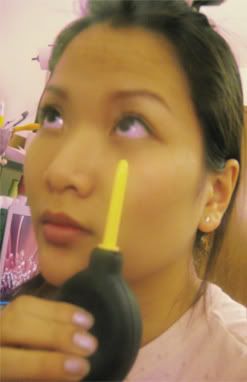 Note:

You might apply the extension on top of bunch of lashes; use the tweezers to separate the unwanted lashes out. Try to have it on just one or two lashes. For first couple extensions, you might end up have 3 or 4 natural lashes bond to the extension, that's okay, as you keep bonding, the process will be easier.



My first 4 extensions, notice how I leave distances. This allow the glue to dry completely before you put in another extension

While wait for the glue to dry, apply it on other eye.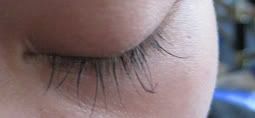 Keep applying, checking, and drying.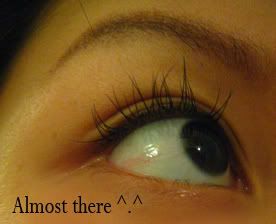 Almost There =) When you see your extensions start to bundle together like the picture above, immediately use the Eyelash Comb Brush to brush them all out before the glue completely dry.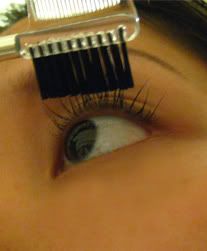 Keep applying until you done with both side.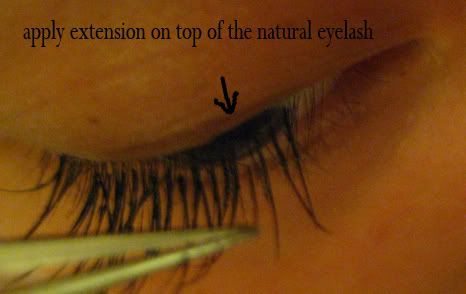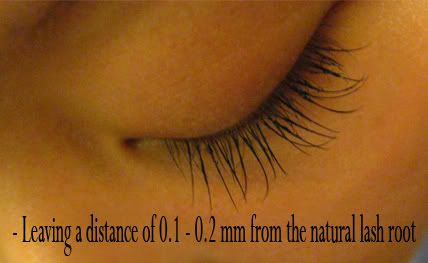 Leave a distance of 0.1-0.2mm from the natural lash root. DO NOT attach the extension on the root of natural eyelash or onto the eyelid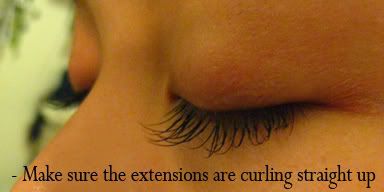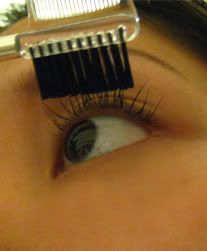 Brushing your lashes when you all done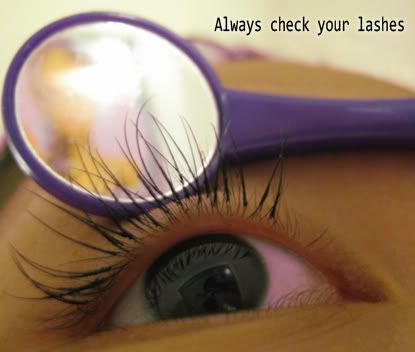 As you keep working, there are less lashes to bond, you can easily apply one extension on one natural eyelash.

Here are the completed pictures .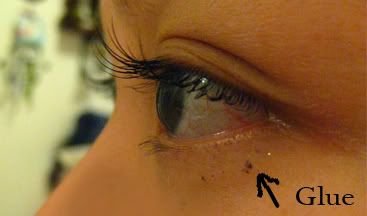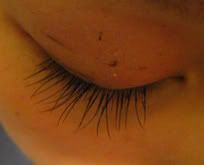 If you get glue on your eyelid, use the Q-tip with remover to remove the glue. It will stink as you apply on your skin. Do not let the remover get into your eye! If it does, flush your eye with the Saline solution and consult the physician immediately!
If the glue gets too close to your eyelid. DO NOT try use the remover, just put on black eyeliner when you want to cover it. The glue will come off in couple days.




Tips:


- Make sure that you are comfortable in front of the big mirror and where you're doing it.
- Get use to looking at the handy mirror in the big mirror to check the side of your lashes.
- The extensions are on top of your lashes and not touching your skin
- To make it natural looking, have the longest extensions in middle
- For dramatic look, have the longest extensions on outer edge of your eyes
- Do not let your lashes touch water in the first 2 hrs. Avoid using hot water to wash your face, sauna or swimming the first 2 days.


False conception: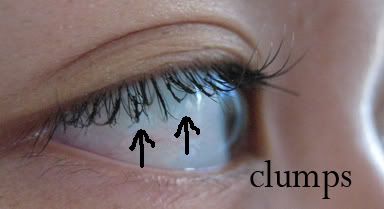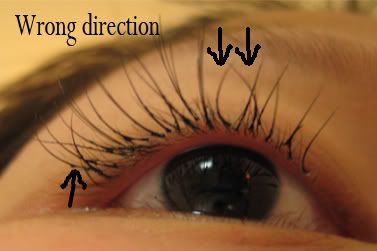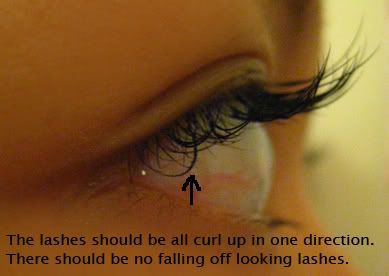 -Again, the extension should all curling straight up, not sideway.
-It should smoothly bond with your natural lash and doesn't have a lots of clumps.
-The extension should be applied same direction as your natural lash. In another word, if your eyelashes are crisscrossed, you should apply crisscross direction with your natural lashes.

Volume up your extension by using this special mascara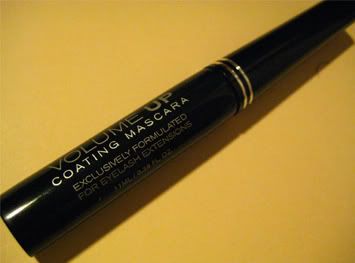 Final note: so, what do you think?? It's a lot of work, but it will pay off! Except for peoples who know me, everyone else thought I have natural long eyelashes =D When I told them they are extension they said like… "You can just tell me they are your real lashes, I would never know!" ^__^ I love eyelash-extension so much that I want to share it with entire world! happy.gif So, if any of you have any question, feel free to ask, I will try my best. If you interested in buying the kits, please reply and I will give you the website. If you have any good website to share, please post. Thank y'all for reading!!!! Peace out.


~~~~~~~~~
Credits: babykat
Thank you so much for a wonderful tutorial
~~~~~~~~~

Here's a video of how it will be done professionally: